Home
Welcome to the New York State Baseball Umpires Association Website.

The NFHS Part I Exam and Answer Key can be found here:

If you have read the 2019 NFHS Baseball Rules Interpretations, you have undoubtedly read #12, concerning the legality of a bat with an embedded chip.  It contradicts what you heard from us and possibly passed on to your membership.
After a talk with Hopkins this morning, it seems that a sharp interpreter found Rule 1-3-2(a)3, which states that, 'Materials inside the bat or devices used to alter the bat specifications and/or enhance performance are prohibited and render the bat illegal.'
Therefore, the Marucci bat that was mentioned, is illegal, at least for the 2019 season.
Still thinking strikes,
Ron & Andy

Memorandum
To: NFHS Baseball Administrators and Baseball Rules Committee Members
From: B. Elliot Hopkins, MLD, CAA, Baseball Rules Editor and National Interpreter
Subject: The Usage and Allowance of Cheek and Jaw Protectors attached to Batting Helmets
Date: February 15, 2019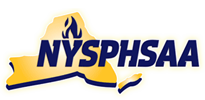 NYSPHSAA approved an addition to NFHS Rule 3-1-4:
New Addition:
The designated hitter and the pitcher may be the same person. If the pitcher bats for himself, he is treated as two separate positions – a pitcher and a designated hitter (abbreviated P/DH on the lineup card) – and may be substituted for as such (ie, if a player who starts the game as the P/DH is relieved as the starting pitcher, he may not return to the mound even if he remains in the game as the DH, and he may not play any other defensive position after being relieved as pitcher.)
A player may replace the starting P/DH as the new P/DH.  The starting P/DH may only return as the DH if substituted for, for any reason; example - pinch run for or pinch hit for.
If the P/DH is removed from the mound he may only DH.  Any replacement for the now DH may only DH, he may not enter the game in any defensive position.