Home

Beginning with the 2015 high school baseball season, teams will be allowed to use video monitoring or replay equipment for coaching purposes during games. 
This revision to Rule 3-3-1 was one of five changes recommended by the National Federation of State High School Associations (NFHS) Baseball Rules Committee at its June 8-10 meeting in Indianapolis. The committee's recommendations were subsequently approved by the NFHS Board of Directors.
Previously, video equipment was permitted but it could not be used during games for coaching purposes.
"With advancements in technology, it was extremely difficult for officials to determine if teams were using video replay during games," said Elliot Hopkins, NFHS director of sports and educational services and liaison to the Baseball Rules Committee. "The committee determined it was the right time to permit teams to use these technological aids if they so choose."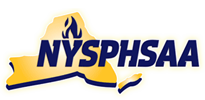 Congratulations to all the umpires at the NYSPHAA Baseball Championships June 14, 2014!

Rule 6-1-3: Clarified the correct and legal position of the pivot foot in the set position.
ART. 3 . . . For the set position the pitcher shall have the ball in either his gloved hand or pitching hand. His pitching hand shall be down at his side or behind his back. Before starting the delivery, he shall stand with his entire non-pivot foot in front of a line extending through the front edge of the pitcher's plate and with his entire pivot foot in contact with or directly in front of and parallel to the pitcher's plate...any other infielder.
Rationale: To eliminate any confusion or circumvention of the set position pitching rule by a pitcher or coach. Also, to emphasize the pivot foot requirement to be in a legal set position.
Rule 7-3-5c: Clarified the rules for a specific type of interference by the batter.
ART. 5 . . .Interfere with the catcher's fielding or throwing by:
a) Unchanged language. 
b) Unchanged language. 
c) Making any other movement, including backswing interference, which hinders action at home plate or the catcher's attempt to play on a runner, or 
d) Unchanged language. 
Rationale: Current rule does not address this specific type of interference.
Points of Emphasis 
1. Malicious Contact
2. Coaching Attire
3. Umpire Authority and Enforcement

Here they are, the five most missed questions off the exam. Locally we did very well on the exam, with 97.5% passing the exam on the first try, however there were five questions, that at the minimum, 25% of us missed.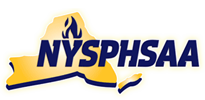 HERMON CARD, a graduate of Maine-Endwell High School (Section IV) and Syracuse University, was a baseball and soccer official for 48 years. Card officiated over 1,300 high school baseball games including more than 200 NYSPHSAA postseason games and 200 high school soccer contests. He was President of his local officiating chapter for six years and Rules Interpreter for 26 years. Card was named Baseball Umpire of the Year and is a member of the Syracuse Baseball Umpires Hall of Fame (2005).