Home

NOTE: This is a change to the NFHS Rulebook and a different rule than the P/DH rule implemented by NYSPHSAA starting in the 2019 season.
---
The role of the designated hitter in high school baseball has been expanded to give coaches an additional option for the 2020 season.

PLACE:
Fire Station Number 1 – http://www.chenangofire.org
86 Castle Road
Binghamton, NY 13905
TIME:
Sunday October 6, 2019
8:00 AM – Coffee and Doughnuts
9:00 AM – Business Meeting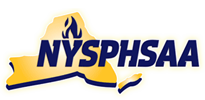 The following umpires were selected to work the New York State Public High School Athletic Association Baseball championship games June 14-15 in Binghamton, NY. On behalf of NYSBUA, Inc, we wish to congratulate them on their selection and service to the tournament.

The NFHS Part I Exam and Answer Key can be found here:

If you have read the 2019 NFHS Baseball Rules Interpretations, you have undoubtedly read #12, concerning the legality of a bat with an embedded chip.  It contradicts what you heard from us and possibly passed on to your membership.
After a talk with Hopkins this morning, it seems that a sharp interpreter found Rule 1-3-2(a)3, which states that, 'Materials inside the bat or devices used to alter the bat specifications and/or enhance performance are prohibited and render the bat illegal.'
Therefore, the Marucci bat that was mentioned, is illegal, at least for the 2019 season.
Still thinking strikes,
Ron & Andy