Home

CANCELED: Due to receipt of few paid registrations as of December 20, 2019, the NY Umpire Clinic scheduled for Binghamton NY on January 11, 2020 has been cancelled. All paid registrations will be returned within the next week. We wish to thank all those umpires who expressed interest in attending.

What follows is the schedule for all clinics.  Bear in mind that the interpreter or his assigned representative MUST attend at least one for your chapter to remain eligible for the State Tournament.

NOTE: This is a change to the NFHS Rulebook and a different rule than the P/DH rule implemented by NYSPHSAA starting in the 2019 season.
---
The role of the designated hitter in high school baseball has been expanded to give coaches an additional option for the 2020 season.

PLACE:
Fire Station Number 1 – http://www.chenangofire.org
86 Castle Road
Binghamton, NY 13905
TIME:
Sunday October 6, 2019
8:00 AM – Coffee and Doughnuts
9:00 AM – Business Meeting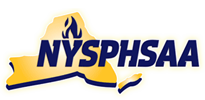 The following umpires were selected to work the New York State Public High School Athletic Association Baseball championship games June 14-15 in Binghamton, NY. On behalf of NYSBUA, Inc, we wish to congratulate them on their selection and service to the tournament.