Home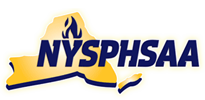 Please order Certificates of Liability with the following procedure:
E-mail at 

This email address is being protected from spambots. You need JavaScript enabled to view it.

. (Please e-mail, do not call)
Sport. (Baseball)
Name of the local chapter.
Title of the requester.
Complete name/address of entity the certificate will be issued.
Contact Person:
April Keefe
585-473-8000

The NFHS Baseball Rules Committee and the NFHS Board of Directors believes there are areas of the game of interscholastic baseball that need to be addressed and given special attention. These areas of concern are often cyclical, some areas need more attention than others, and that is why they might appear in the rules book for consecutive editions. These concerns are identified as "Points of Emphasis." For the 2016 high school baseball season, attention is being called to: intermediate penalties/restriction to the bench/dugout, proper catcher's equipment, and sportsmanship-celebrations around or near home plate. When a topic is included in the Points of Emphasis, these topics are important enough to reinforce throughout the academic year because they are not being given the proper attention.

The officers for the coming 2 years were elected on October 3, 2016.

Warren Bumpus from the Syracuse chapter has been chosen from the pool of applicants as the winner of the 2015 Tony DeVivo Umpire of the Year Award.

INDIANAPOLIS, IN (July 7, 2015) – Rules changes for the 2016 baseball season were made at rules committee meetings last month in Indianapolis. Those changes were subsequently approved by the National Federation of State High School Associations (NFHS) Board of Directors.