Home

Richard "Dick" Lindemeyer of Allegany Co. Chapter is the 2016 winner of the Tony DeVivo award. The award annual recognizes a member of NYSBUA who has made significant contributions to NYSBUA.

High school baseball rules now will require a pitching restriction policy based on the number of pitches thrown in a game.
The revised pitching policy in Rule 6-2-6 was one of six rules changes approved by the National Federation of State High School Associations (NFHS) Baseball Rules Committee at its June 5-7 meeting in Indianapolis. The rules changes were subsequently approved by the NFHS Board of Directors.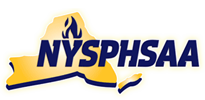 Congratulations to all the umpires at the NYSPHAA Baseball Championships June 11, 2015!

There appear to be two questions that are not able to be answered on Part II, along with another where the answer key is wrong.
In our chapter, we gave credit to all on #23 and #83, but changed the answer on #15 to B.  You are free to do whatever you'd wish.
- Ron Gabriel

3-3-1 PEN: Clarified the sequence of administering penalties to the members of the coaching staff and offending players.
3-3-1q: Added additional inappropriate acts by the offender that would require an immediate ejection.
Points of Emphasis
Intermediate penalties – restriction to the bench/dugout
Proper catcher's equipment
Sportsmanship – Celebrations around or near home plate