Home

By NFHS on November 22, 2016
The NFHS Baseball Rules Committee and the NFHS Board of Directors believe there are areas of the game of interscholastic baseball that need to be addressed and given special attention. These areas of concern are often cyclical, some areas need more attention than others, and that is why they might appear in the rules book for consecutive editions. These concerns are identified as "Points of Emphasis." For the 2017 high school baseball season, attention is being called to: correct use of NFHS Authenticated Mark Program baseballs, umpires asking assistance from his partner on a call, positioning of team personnel and legal slides. When a topic is included in the Points of Emphasis, these topics are important enough to reinforce throughout the academic year because they are not being given the proper attention.

By NFHS on November 22, 2016

By NFHS on November 22, 2016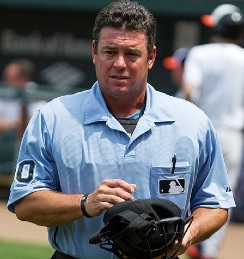 The wife of NY Umpire Clinic MLB Instructor Rob Drake recently passed away. Yvonnka Drake passed away at their home in Arizona on Saturday, September 10. For those who know or met Rob through the NY Umpire Clinic, we are collecting condolences and will be forwarding them to Rob in the near future. If you would like to send your condolences, please email them to Eric Olsen at This email address is being protected from spambots. You need JavaScript enabled to view it..

Video and PowerPoint presentations from the 2016 Annual Meeting on October 1, 2016 are now posted to the website, view the Presentations page for more information.
Topics include:
Inter-Chapter Relations
Concussion Mitigation
Retaining New Members