CANCELED: Due to receipt of few paid registrations as of December 20, 2019, the NY Umpire Clinic scheduled for Binghamton NY on January 11, 2020 has been cancelled. All paid registrations will be returned within the next week. We wish to thank all those umpires who expressed interest in attending.
NY Umpire Clinic
January 11, 2020
Greater Binghamton Sports Complex, Binghamton, NY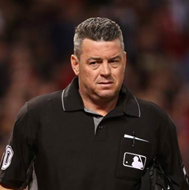 Major League Instructor  Rob Drake, MLB No. 30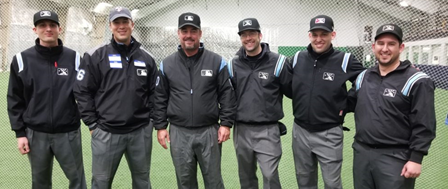 Professional Umpire Staff - tentative
From left - Tyler Witte, A league; Chris Segal, MLB Reserve Umpire; Rob Drake; Andy Draper, former AA umpire; Dan Merzel – AAA Umpire; Ryan Bealo, former AA umpire; not shown Ben May, MLB Reserve Umpire
$140 per attendee
Includes:
Friday night – Ice Breaker at hotel– 7:00-9:00pm
Saturday – All day training, lunch and live MLB auction – 8:00am-5:00pm
Hotel accommodations
Comfort Inn
1000 Front Street
Binghamton NY
Group Account 3925880
Block of rooms have been reserved with a room rate of $72.00 plus applicable taxes.
Room block will be held until December 19, 2019 so please make your reservations today.
To all NYSBUA Chapter Officers
The NY Umpire Clinic committee is planning an improved clinic experience to interested members of your chapter. Plans are underway to build on the success of the previous clinics to deliver new, valuable information on umpiring. We ask you to share this through your chapter communications to make the opportunity known to your members. As an association, we get better by education and training. Please invite your members to contact us directly so we can add them to our distribution list and keep them informed of further developments.
Additional information is available at https://endicottumpireschapter.com/2020-ny-umpire-clinic